The neighbours of the Atlético de Madrid stadium, in the district of San Blas-Canillejas, benefit from a skate park by BENITO as well as areas for rest and leisure.
It is an 11.8 hectares area that has two functions: serve as a welcoming space to the stadium as well as offering to the neighbours of the district a new park where they can enjoy themselves and socialise.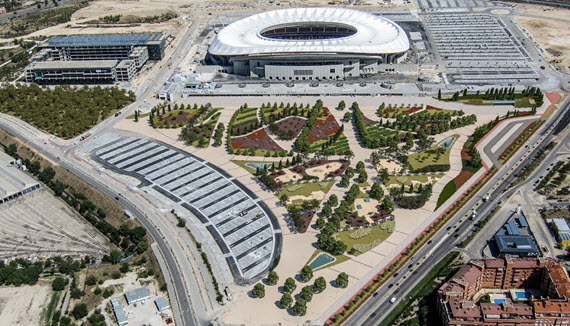 To meet the teenagers' demand, a skatepark has been installed. This area is pleasant for young people because, on top of practising urban sports such as skateboarding, BMX or roller skating, they can also meet and have fun.
The surroundings of the stadium have been completed with a green area designed to create a sustainable landscape from an environmental point of view and stimulating from a sensorial one, considering the species adapted to the environment and the environmental conditions of Madrid.